As the "Candy Man" I receive several odd and challenging requests. Sometimes these requests area a wake-walk, and other times they can push my staff and I to really get creative.
A few weeks ago I was approached by a bride who asked me to help make her wedding a little bit more unique. Her request was to create the Emerald City in chocolate.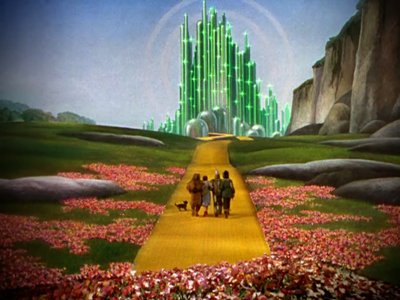 Yes, that is right, a chocolate rendition of Emerald City. Her wedding had a theme, which as you may have guessed was the Wizard of Oz. . . . and part of her 'dream' was to have a themed sweets table.
Naturally I was willing to help, as I view all special requests as an opportunity for Illinois Nut & Candy really shine. But the ante was raised when I found out that her wedding would be filmed as part of a taping for a reality show. [At this time I am contractually obligated to keep the name of the show a secret, but you may rest assured that details are soon to follow.] Follow us on
Facebook
.
In the meantime, under the pressure of time constraint my staff and I worked with the bride to make her dream a reality.
I'll let you be the judge to decide if what we modeled is a close enough replica of the Emerald City after a scene from the movie. Click photo to enlarge image for viewing.
Did we capture the essence?
We were able to build out the entire Emrald City-themed sweet table in chocolate except for the chocolate lollipop stand and the ceramic figurines. The table was a 5' wide semi-circle or 'half moon,' and 2.5' deep across at he arc.
The "
Life of the Candy Man
" sure is sweet.
Have a sweet day!